TEACHERS
Maria Tsakona
Certified ashtanga yoga teacher by KPJAYI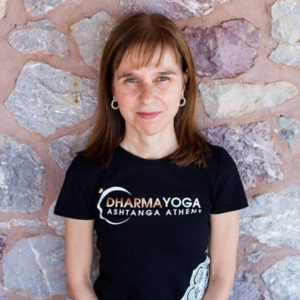 When we refer to ashtanga yoga in Greece, we definitely think of Maria Tsakona, the one and only ashtanga yoga teacher in Greece and among the few ones in the whole world who are certified by KPJAYI ashtanga yoga school in Mysore, India, the authentic source of ashtanga yoga.
In 1992, at a very young age, she meets Guruji, Pattabhi Jois, and his grandson, Sharath Jois, in Mysore (Lakshmipuram), India, who teach her the primary series of the ashtanga yoga system, which will greatly determine her later life.
Up to the present day, she visits India almost every year, adjusting to a yoga lifestyle. With willpower, patience and love, the tree will blossom and bear fruit.
Maria is on the third level of ashtanga yoga and has been certified by her teachers to teach the first, second and third level of the series. She remains true to Guruji's words "Do your practice and all is coming".
Pinelopi Grigoraki
Authorized ashtanga yoga teacher by KPJAYI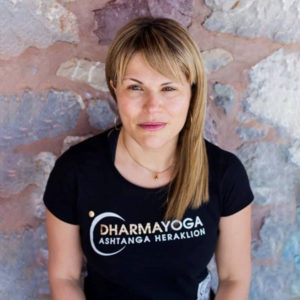 Pinelopi Grigoraki comes from St. Paul, Rethymnon, southern Crete where the first ashtanga yoga centre in Europe (Yoga Plus) has been operating since 1982 by the teachers Raddha Warrel and Derek Ireland. Her contact at a young age with these great teachers and seekers of knowledge who first brought yoga from India to the Western world, making Saint Paul a pioneer in Greece and Europe, was determinant.
Her wonderful journey has just begun. In 1994, she starts practicing at Yoga Plus centre and, under the guidance of her first teacher, Raddha Warrel, she introduces herself systematically to the world of yoga.
She sets up the "Friends of Yoga" Club and teaches intensive courses in Rethymnon and Heraklion. At the same time, she attends seminars in different places around the world. She has been visiting India from 2003 to 2007 and has been trained by the great teachers of ashtanga yoga, Pattabhi Jois and Sharath Jois.
Additionally, she attends seminars on Ayurveda, Sanskrit, Indian philosophy and music. In 2005 and 2007, she successfully organizes courses at her school led by the remarkable certified KPJAYI teachers, Peter Sanson and Maria Tsakona. In 2007, she completes a teacher training in the system of anussara, in Thailand.
Her quest for the archetypal knowledge and wisdom which lie behind the ancient yoga system has prompted her to delve deeper into the gnostic studies and esotericism since 2007, completing a teacher training course at the Monserat Manastery in Spain, in 2013.
In her yoga school, named "Dharma Yoga", which operates in the city of Heraklion, she teaches the path of yoga with consistence, love and devotion. Simultaneously, she gives lectures on philosophy and teaches self-knowledge techniques at the gnosis research centre.